+5
Michele "1L" Keane
Neil Ruggiero
Alex Kubacki
T Miller
Tom H
9 posters
Ran the Sacramento Merrell 5k Down and Dirty Mud Run this weekend with my daughter Katie. This race marks a return to running for both of us. For her it was her first race after giving birth 3 months ago, for me, my first one since Eugene which was followed by nagging injuries. I've taken the last month off from running pretty much completely to let things have a chance to heal, with just elliptical work to stay fit and a few short slow treadmill runs of late to get things stretched out. We planned to run at Katie's pace so was perfect for me to not push things.
If you've never done a 5k mud run, you need to do a mud run. It is a real blast and a really different atmosphere that is full of friends and is really relaxed. Since this one was the day before halloween, there were plenty of folks in costume which just added to the atmosphere. The race was really well run and the start had about 9 waves separated by 2-5 minutes to allow obstacles to be cleared before the next wave arrived.
We had no pace planned, just to run at whatever Katie felt was comfortable. That being said, she did push it such that at the end she felt that this race was a real workout and that she is ready to get back in the running saddle.
We ended up with a time of about 47 minutes with all the obstacles. In order of appearance the obstacles were: Low crawl, Low wall to scale, short but steep hills, a ladder wall about 10' high, cargo net climb, mud pit #1 with flags hanging over the mud and a drill instructor yelling out "put you face in the mud - stay under the flags!!", tunnels, a slog through the shallows (up to 4' deep) of the lake, "slippery mountain" which was an 8' tall 45 degree wall that was well lubed so that you had to pull yourself up ropes on your belly, then mudpit #2 which was surrounded many deep by spectators. After that was the mad dash to the finish. Then the ongoing discovery of mud in every crack and orifice. Again and again. What did it all look like once done? Something like this: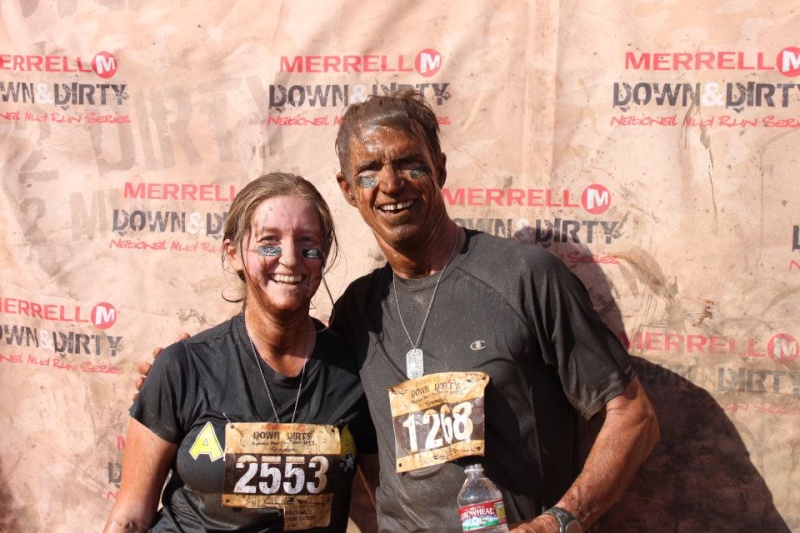 No, I'm not really tanned. And while I do have a gap between my front teeth, it is NOT as wide as the picture suggests. That's mud. Mmmmmm, tasty.

Tom H

Regular





Posts

: 564


Points

: 5141


Join date

: 2011-06-15


Age

: 64


Location

: Fremont, SF Bay Area



That looks and sounds like great fun. Thanks for the report and it is great to hear that you're back to running.

T Miller

Regular





Posts

: 782


Points

: 5408


Join date

: 2011-06-15


Age

: 57


Location

: Bloomington



Awesome picture. Looks like a lot of fun. Congrats.

Alex Kubacki

Explaining To Spouse





Posts

: 1252


Points

: 5868


Join date

: 2011-06-23



Congrat son the fun race! I just recently did one muyself, most fun race I've EVER done.

Neil Ruggiero

Poster





Posts

: 112


Points

: 4376


Join date

: 2011-06-18


Age

: 35


Location

: Western Massachusetts



Nice going, Tom - looks like you guys had fun!
That sounds like a great time -- and the photo of you and Katie is fantastic. You need to frame it!



Mark B

Needs A Life





Posts

: 8028


Points

: 19174


Join date

: 2011-06-15


Age

: 59


Location

: Vancouver, Wash.



Very cool event, nice job.

Jim Lentz

Explaining To Spouse





Posts

: 1171


Points

: 6256


Join date

: 2011-06-15


Age

: 61


Location

: Downers Grove




mountandog

Explaining To Spouse





Posts

: 1398


Points

: 7459


Join date

: 2011-07-14


Age

: 66


Location

: Michigan



Nice tan! great race, congrats and fun too, looks like!

fostever

Explaining To Spouse





Posts

: 1572


Points

: 8356


Join date

: 2011-06-16


Age

: 64


Location

: Chicago



---
Permissions in this forum:
You
cannot
reply to topics in this forum