To bring everyone up to speed, I had planned to pace my two teenage boys for a sub 52 min 10K on 7/4. The race was the Harvard Pilgrim 10K at Patriot Place. This is the one that finishes on the 50 yard line of Gillette Stadium, home of the New England Patriots. Awesome race, but I had only signed up this second year in a row in order to get my boys a sub 2 hr corral at the 2012 Disney half. My oldest (16) has given up entirely on training, & doesn't even want to do the half now. I'm trying not to push, but he did make a commitment to me & we're already signed up for Disney. He ended up walking the 6.2 with my wife. I'll try to convince him to do the half again once we're 3 to 4 months out. His 13 yr old brother isn't doing much better. Though, he did do a little more training & hasn't completely given up on the half yet. Anyway, there was no way that either of them was going to get anywhere near an 8:2x pace. Because of this, & since I wasn't in top shape to go for a 10K PR, I decided to do something fun for a change.
Racing has always been serious business for me, but for this 7/4 race I decided to run in honor of our troops in order to keep my mind off of any time goal. To my wife's embarrassment, I ran in camo shorts & combat boots, while carrying the American flag. I averaged close to a 9:00 pace for the first 3 miles, but that slowed to an average 10:00 pace for the 2nd half of the race. I blame the heat more than the boots. Yet, the boots really did slow me down – it was a hard workout for my hamstrings lifting that extra weight behind me. I recovered, but I'm still feeling a little sore 3 days later.
After looking at the pics, I realized I look like that chick from NCIS. Next time (Manchester Road Race?) I'm going to suit up in my full BDU Civil Air Patrol uniform, with boots, flag, & 30lb rucksack. I need a new challenge & I want to look better for the camera.
BTW, I still beat my 13 yr old by almost a minute in those boots & carrying that flag!
[img]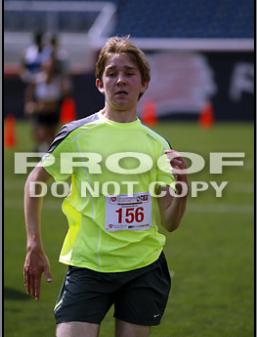 [/img]
[img]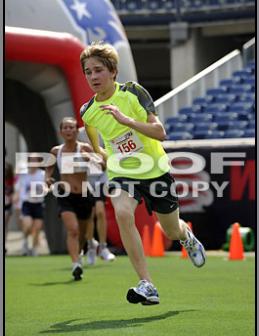 [/img]
[img]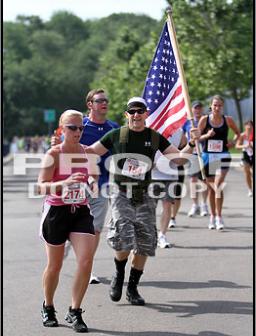 [/img]
[img]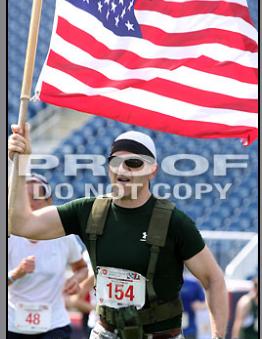 [/img]

Dave P

Poster





Posts

: 445


Points

: 5058


Join date

: 2011-06-16


Age

: 58


Location

: Connecticut



Sounds like a lot of fun - your son looks like he is digging deep! Good job to both of you - that is serious commitment for a teenager to run a summer 10K like that!!!

John Kilpatrick

Explaining To Spouse





Posts

: 1542


Points

: 6131


Join date

: 2011-06-15


Age

: 52


Location

: Leesburg, GA



Way to make the best of it. Maybe being beaten by dad will rouse your son. It works for me!

Liz R

Poster





Posts

: 205


Points

: 4459


Join date

: 2011-06-16



Great job Dave. Hopefully they'll be playing actual football on that field in a few months.

Alex Kubacki

Explaining To Spouse





Posts

: 1252


Points

: 5868


Join date

: 2011-06-23



Cool way to race a 10K for the 4th.

Jim Lentz

Explaining To Spouse





Posts

: 1171


Points

: 6256


Join date

: 2011-06-15


Age

: 61


Location

: Downers Grove



Way to honor our troops, Dave. Kudos to your son!

fostever

Explaining To Spouse





Posts

: 1572


Points

: 8356


Join date

: 2011-06-16


Age

: 64


Location

: Chicago



---
Permissions in this forum:
You
cannot
reply to topics in this forum