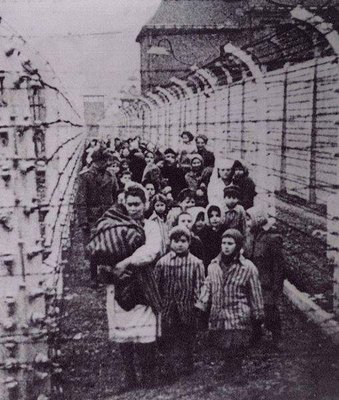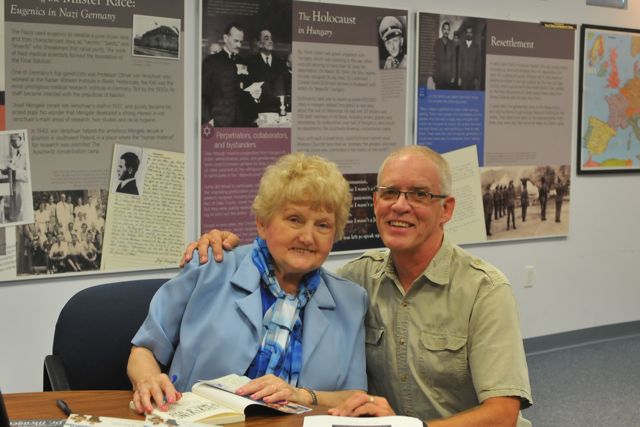 You might recognize the old B&W photo from WW II - the liberation of Auschwitz.
That famous footage shows twins who were the human guinea pigs of the "Angel of Death" - Dr. Josef Mengele. The first set of twins are Eva and Miriam Mozes (Eva is on the left in the first set of twins) - on Tuesday I met Eva Mozes Kor at the museum she founded in Terre Haute, Indiana - CANDLES (Children of Auschwitz Nazi Deadly Lab Experiments Survivors).
Eva and her sister were 10 years old when they were selected on the train platform at Auschwitz by Mengele.
Her museum tells the story of their experience at Auschwitz and how they survived. It was a privilege to meet and talk with Eva. Some of us at our Lilly summer workshop chose her museum for our field trip choice. We all were so glad to meet her and hear her story. One thing I learned from her talk was that Mengele also used fraternal twins, as well as identical. I am a twin, so I was drawn to know more.
She is an excellent speaker and is a delight to be around. Earlier this summer I had watched a documentary about her on Netflix - "Forgiving Mengele". It is a very moving and challenging movie to watch. I did not know I would soon meet her.
Eva takes tours to the concentration camps, where tour members see and hear the story where it all happened. I would love to be able to go sometime with her. What is astounding about Eva is her story about deciding to forgive Dr. Mengele and move on with her life. Before she did that, she was not a happy person and her past in many ways kept her as a prisoner. After she was able to forgive (not approve) Mengele, she was freed. She is very controversial to many Holocaust survivors and that is understandable. But her reasoning and logic are very compelling. Watch the documentary sometime - I highly suggest it.
One last thing - right after this photo was taken of Eva and myself, I told her I was a twin.
I then told her that in my family there were
two
sets of twins.
She looked up at me and said "Oh Charles, Dr. Mengele would have liked
you
". I cannot describe how chilling that was to hear those words directly from a Holocaust & and Mengele survivor. One who was there and can be seen in that famous/infamous footage from WW II. A very unforgettable experience. I am going back with another Lilly writer who is Jewish and retired.
Watch the movie and maybe read the book "Surviving the Angel of Death".
Regular





Posts

: 585


Points

: 3765


Join date

: 2011-07-01


Age

: 66


Location

: Seymour, Indiana



Wow. thanks for sharing. I agree we need to forgive for our own good, too. It can sure be difficult, though. I'm glad you got to meet this lady.
Explaining To Spouse





Posts

: 2612


Points

: 6546


Join date

: 2011-06-17



Brain zapped from a hot run at the end of a long week, so the best I can muster:
Explaining To Spouse





Posts

: 3153


Points

: 7848


Join date

: 2011-06-14


Age

: 31


Location

: Arlington, VA



Inspiring and chilling. Thanks for sharing, Charles.
Needs A Life





Posts

: 7447


Points

: 16283


Join date

: 2011-06-15


Age

: 54


Location

: Vancouver, Wash.



Wow. I had the pleasure of listening to a survivor earlier this year at the Holocaust Museum in Atlanta. Thanks for sharing (again), Charles.
Explaining To Spouse





Posts

: 4815


Points

: 11545


Join date

: 2011-06-15


Age

: 56


Location

: Cleveland (Bay Village), OH/Atlanta, GA




---
Permissions in this forum:
You
cannot
reply to topics in this forum